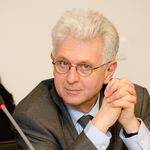 Wiktor Raldow joined the European Commission in 1997. Since 2006, he is the head of the unit for energy conversion and distribution systems in DG Research.
Wiktor Raldow graduated in chemical engineering at the Royal Institute of Technology in Stockholm. He obtained his PhD at the same school and worked as a post-graduate fellow at the University of Houston, Texas. Later, he was also active as a part time professor of Thermochemical Absorption Processes at the University of Lund.
Wiktor Raldow published more than 30 articles and co-authored two books (in Swedish), one on energy storage and the other on a long term vision of the energy systems. He worked several years with supporting industrially relevant research at the Swedish Council for Building Research and the Swedish National Board for Technical and Industrial Development. During this period he also was the national representative to and the chair of IEA implementing agreements on Hydrogen and Energy Storage.