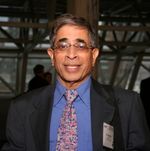 S. S. (Mani) Venkata is joined Alstom Grid Inc. in January 2011 as a Principal Scientist and Director of DER R&D. He also continues as an Affiliate Professor of Electrical Engineering at the University of Washington (UW), Seattle, Washington since Janaury 2008. He is also President, Venkata Consulting Solutions Inc. He was with KEMA Inc. for six years during 2005-2010. He was Dean and Distinguished Professor of Wallace H. Coulter School of Engineering at Clarkson University, Potsdam, New York during 2004-2005. During 2003 he was Palmer Chair Professor of Electrical and Computer Engineering Department at Iowa State University, Ames, Iowa. From 1996 to 2002 he was Professor and Chairman of the department at ISU. Before joining ISU, he taught at the University of Washington, Seattle, West Virginia University, and the University of Massachusetts, Lowell for 25 years. He received his B.S.E.E and M.S.E.E. degrees from India, and his Ph.D. degree from the University of South Carolina, Columbia in 1971.
Prof. Venkata has conducted research, design and development work for the more than 25 utilities and power related industries for the past 43 years. Venkata has published and/or presented over 320 publications in refereed journals and conference proceedings, and a co-author of the book Introduction to Electric Energy Systems Prentice-Hall Publications, 1987. He is a registered professional engineer in the states of Washington and West Virginia.
Dr. Venkata is a Fellow of the IEEE. He is currently serving as member of the IEEE Fellows Committee and as the Secretary of the PES Technical Council. He was a member of the PES Executive Committee and Governing Board for four years, as the Vice-President of Publications, member of the Finance Committee, the Long Range Planning Committee, and Technical Activities Advisory Board during 2004-2007. His past activities include serving as the Chair of the Power Engineering Education Committee, as the Regional 6 Representative and Seattle Student Chapter Chair. At the Technical Committee levels, he chaired several subcommittees, working groups and task forces. He was also the Vice-Chair of the 1992 Summer Power meeting. At the IEEE level, he represented the PES as the TAB Periodicals Committee member. He had also served as the Seattle Section Chair, and the Student Branch Advisor.
In 1996 he received the Outstanding Power Engineering Educator Award from the IEEE Power Engineering Society. He also received the Third Millennium Award from the IEEE in 2000.