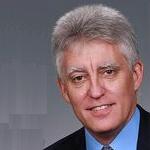 Dr. Ronald Melton is a senior power systems engineer at Battelle / Pacific Northwest National Laboratory. He is involved in a variety of smart grid projects with an emphasis on interoperability standards and methods. He is currently the administrator of the GridWise Architecture Council and Project Director for the Northwest Smart Grid Demonstration.
Dr. Melton has over 30 years of experience in systems engineering applied to interdisciplinary problems. In recent years he has been a technical leader in cyber security for industrial control systems used in critical infrastructures. He was the lead author on the System Protection Profile for Industrial Control Systems prepared initially for the National Institute of Standard and Technology and subsequently updated for the Department of Homeland Security.
Dr. Melton received his BSEE from University of Washington and his MS and PhD in Engineering Science from the California Institute of Technology.