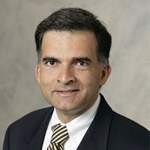 Rana Mukerji
New York Independent System Operator
Senior Vice President, Market Structures
Rana Mukerji is Senior Vice President, Market Structures, for the New York Independent System Operator. He joined the NYISO in May 2006. Mr. Mukerji is responsible for the departments of Market Design, Product & Project Management, Strategic & Business Planning, Research & Development and Market Training.
Before joining the NYISO, Mr. Mukerji spent seven years with ABB in Raleigh and Zurich where he was Vice President and General Manager and Group Senior Vice President. At ABB, Mr. Mukerji had global responsibility for ABB's Power Technology Asset Management and Consulting services. He also led ABB's $500 million global Utility Partner Business, overseeing 3,000 employees in 35 countries.
Mr. Mukerji was with General Electric in Schenectady, N.Y. from 1990 to 1999 where he was General Manager of GE's Power Systems Energy Consulting business. At GE, Mr. Mukerji implemented the Six Sigma quality improvement program in the Power Systems Energy Consulting organization, and helped establish the GE-MAPS software as an industry standard tool for evaluating competitive power markets.
Mr. Mukerji graduated from the Indian Institute of Technology with a Bachelor's degree in Electrical Engineering. He earned a Master of Engineering degree in Electric Power Engineering and an MBA from Rensselaer Polytechnic Institute, Troy, New York.
He is also a Professional Engineer registered in the state of New York.